Basic Paradiddle sticking
The following sticking is a basic paradiddle. Your first goal is to play it smooth and fast.
RLRR LRLL
Here are paradiddles in musical notation in eighth notes and sixteenth notes.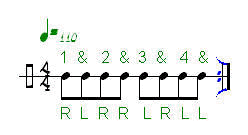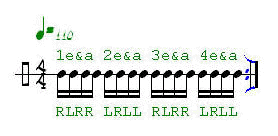 Paradiddle Phrasing
After you have a certain comfort level, you will also want to practice it by emphasizing the first note of each paradiddle.
RLRR LRLL
Notice I said "emphasize" and not "accent". You can practice using a full accent, but the point of this exercise is to emphasize the first note of each paradiddle with a very slight accent. This gives the paradiddle a certain musical phrasing.
Standard Paradiddle Exercises
The real fun with paradiddles is to apply them to your playing. The key to learning to apply paradiddles to your playing is short exercises. Here are your first paradiddle exercises.
Standard Exercise #1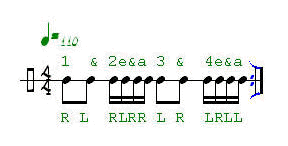 Standard Exercise #2

---
Paradiddle Inversions
Paradiddle inversions are just other 4 note sitcking combinations that contain a diddle (a RR or LL). Here are the other standard inversions:
Inversion 1
RLLR LRRL
Inversion 2
RRLR LLRL
Inversion 3
RLRL LRLR
The idea with the inversions is for you to become comfortable with alternate sticking so that you can free up your playing.
Inversion Phrasing
Each inversion has a feel of its own. Remember, the bold letters are emphasized, not accented. Practice both smooth equal sounding and phrased paradiddles.
Inversion 1
RLLR LRRL
Inversion 2
RRLR LLRL
Inversion 3
RLRL LRLR
Paradiddle Inversion Exercise
RLRR LRLL RLRR LRLL
RLLR LRRL RLLR LRRL
RRLR LLRL RRLR LLRL
RLRL LRLR RLRL LRLR
Here it is in music notation as 16th notes:

---
Lesson 3: Double Paradiddles, Triple Paradiddles, and Paradiddlediddles
Double Paradiddle:
RLRLRR LRLRLL
Triple Paradiddle:
RLRLRLRR LRLRLRLL
Paradiddlediddle:
RLRRLL RLRRLL