Build a Drum Practice Room / Music Studio
"If you are seriously going to practice drums at full volume, then you need a good
quality practice room. The following is information on my practice room. I hope
it inspires you." --Mike Prestwood
My Drum Studio
A visual tour of my drum studio along with specs.
Hopefully, this page will inspire you to build yours right!
My Goal: My goal was to make my drum studio sound proof enough for me to practice anytime, 24 hours a day. It's not quite that good but I can play during the day and evening no problem. You can whisper right outside the door comfortably.
Specs and Visual Tour
Size
11' x 9' - I wish it was about twice the size but I have limited space in my garage.
Sound Proofing
Floor - Pad and shag rug.
Walls - textured and painted, 1" sound foam on back wall ONLY
Ceiling - acoustic bass traps (foam) in corners, 4" acoustic foam (about 1/2)
Note I wanted to put acoustic sound foam on all walls and ceiling but when filled in the ceiling the room sounded so dead. I had to remove the middle acoustic foam from the ceiling. Now it sounds great!
Walls
Staggered studs from inside wall to outside wall so the entire inside room does NOT touch the outside (except where it has to at the top and bottom of the studs. Staggered studs allow you to overlap the inside and outside insulation layers.
two layers of insulation (staggered)
2 layers of sheet rock on the inside, 2 more on the outside
Ceiling
two layers of sheet rock
recessed lighting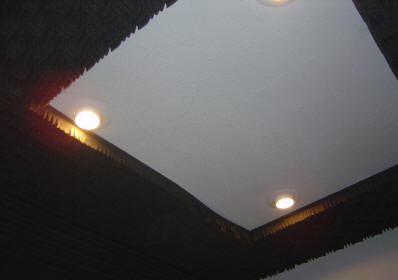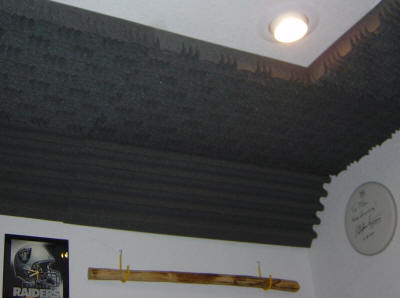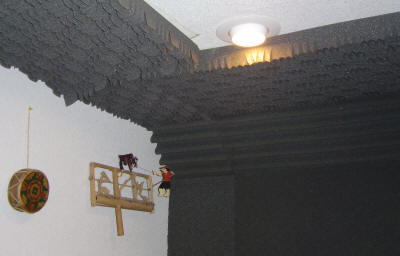 Window
2 sheets of glass separated by 4 inches. One is 5/8" thick and the other is 1/3" thick. They're different thicknesses so they don't reverberate from one panel to the next.
Since I had a gap in the window, I put some memorabilia glued down like a museum. Coins. Wacky packages. Drumsticks with my name on them (a gift), and two of Lisa's Fisher-Price toys.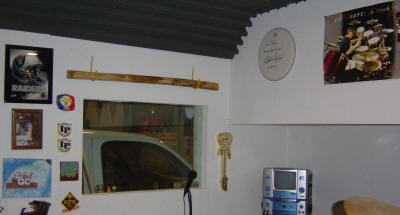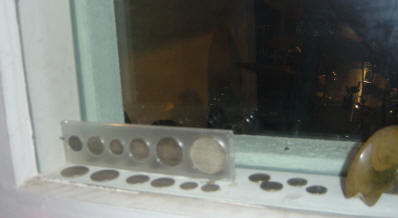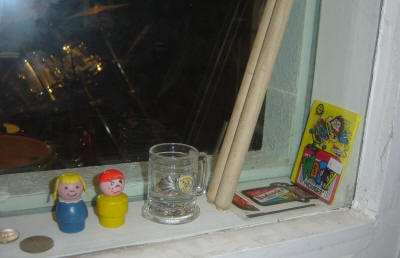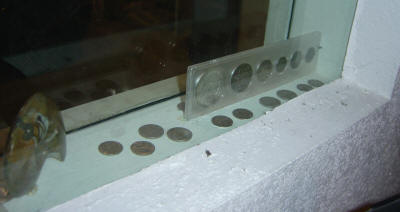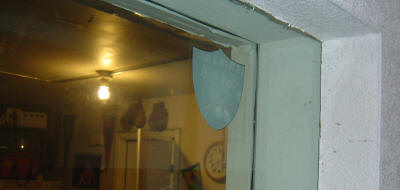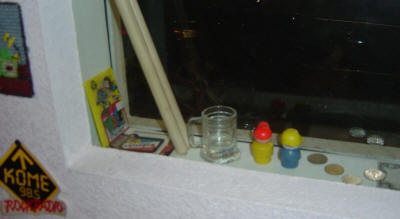 Door
Solid wood door (no need to add cork to the back of a solid wood door)
insulation along the edge when you close the door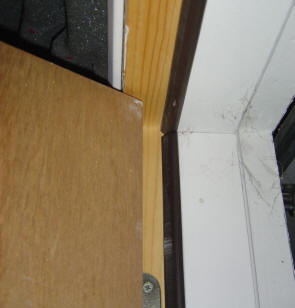 Electricity
24 plugs spread out to three separate circuits. The three circuits is to eliminate the buzzing you sometimes get when you plug two devices into the same circuit (amps, mics, recording equipment).
Insulation inside the socket housings.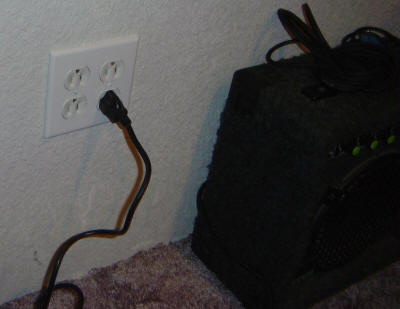 Floor
Suspended floor using 2"x4" on edge.
Insulation between the suspended studs
Because I was worried about moisture, a plastic sheet was laid on the cement first.
Note You probably do not need to suspend floor. I was told that was a overkill since sound has a bit of trouble traveling through the entire earth. However, it does make for a nice very slight bounce feeling.
Extras
Stereo mounted on back wall out of the way so we can play tapes and CDs easily.
Headphone ??? amp for up to four headphones
Back wall has an outlet and I cutout the acoustic foam around it.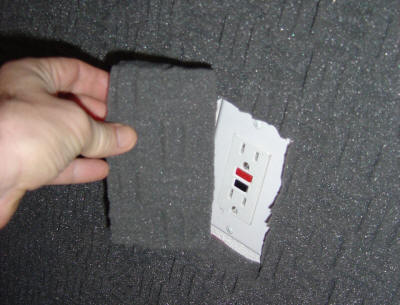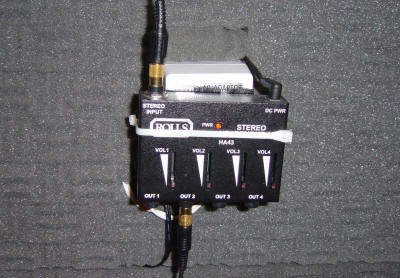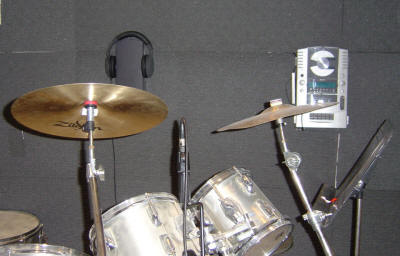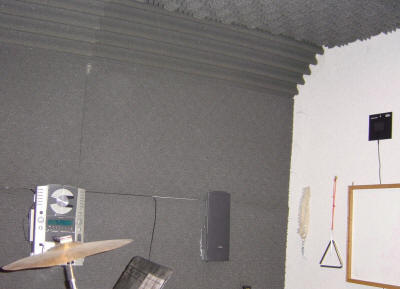 Problems
The ceiling leaks sound really just cause I haven't finished up in the attic right above the music studio. I need to add insulation and some 1/2" plywood.
No air conditioning. Not really that big of a problem even when it's 110 out because of the extreme sound proofing, but when there are four of us in there it heats up a bit. If I do tie in the house air conditioning, I'm going to do it through a sound muffler. An insulated box with lots of corners (a maze).
My Drum Set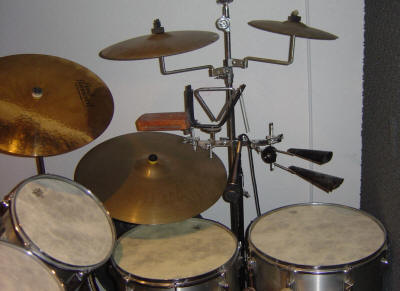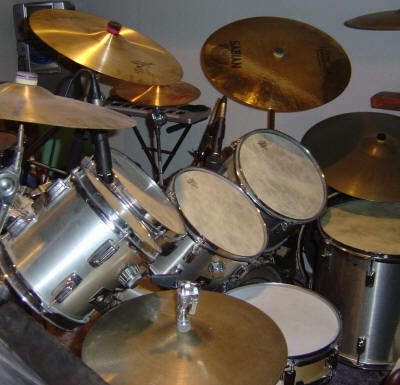 Recording Equipment
My analog recording equipment is just sitting on the floor. I need to get a rack system. Since I'm a software developer, I should have gotten digital recording equipment. I had it in my head that I wanted to learn the old analog stuff first.